Benefits
The decision to outsource some of your business processes can be a challenging one: there may be individuals within your organization that have concerns about quality, security or simply giving up control. We offer the most stringent standards of excellence and follow set procedures without any compromises to make sure client information is secured and acted upon in a timely manner. Many clients see cash flow improved in the double digits, aged A/R buckets being cleared out, more regular information updates and an overall decrease in rejection rate all while seeing improved patient satisfaction and an increase in productivity overall.
Quality Assurance
We pride ourselves on maintaining the strictest quality assurance, complying with ISO 9001:2008 Quality Management System (QMS), HIPAA, CMS, and more. Our Six Sigma certified team members have scrutinized each process to ensure that they are of the highest quality through ongoing audits and quality testing.

We frequently undertake continuous improvement initiatives to guarantee that we can meet any client's quality needs no matter how stringent. Process controls are only one of the ways that we became a Center of Excellence for business process outsourcing; we also work closely with clients to ensure that quality measures and reporting metrics are agreed upon and followed at all times.
Transitioning
When you decide to move some or all of your business processes to our facility, we work closely with your current team to make sure that all current processes are followed and that the high quality of work continues and even improves after the move.

Our Six Sigma team documents the flow of work in great detail, including various handoffs between teams, required resources, any network design and system operations and reporting needs.

Expect to receive a highly detailed overview of the entire process before work ever begins on execution.

Continuous process improvement is critical to enhancing client value and finding avenues for continued growth and scalability within our Organization.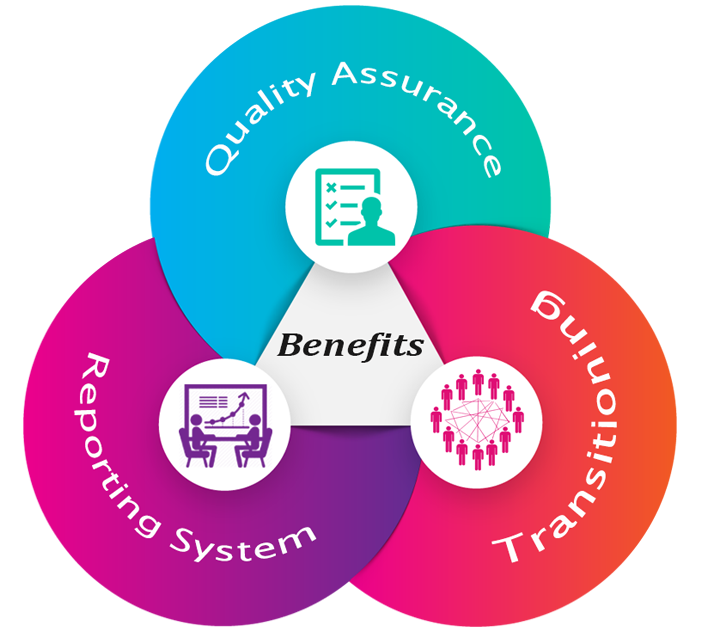 Reporting System
We deliver a variety of customized reports on a daily, weekly, or monthly basis, which allows our clients to visualize the workflow in any specific period.

Our qualified and experienced billing professionals use a combination of advanced technology and personal knowledge to provide actionable reporting that helps our clients get paid faster, paid more, and at a lower cost than ever before.

Detailed reporting includes denials management, receivable analysis, secondary claims submissions, daily status report, productivity reports, payer follow up, resubmission of claims details and more.