Payer / MCO Solutions
Time is money, and provider data management tasks such as provider credentialing, contract and fee schedule loading, claims data entry, and other data collection and verification tasks can be an incredible drain on your team's time and negatively impact your bottom line to a great degree. However, these tasks are some of the most critical to ensuring that you provide the highest standards of patient care. Keeping these costs under control and ensuring rapid and accurate credentialing are key to ongoing profitability.
Regulatory changes face the Healthcare Payer industry in a way that was unheard of in the recent past. A more consumer-centric approach means that there is increased pressure to reduce the costs associated with healthcare, introduce preventative solutions to those with high-risk profiles, and generally find ways to maintain the health of a rapidly-aging population. Our Managed Care Organization solutions offer ways for you to continue to provide a high quality of care in a rapidly evolving industry, and include driving sustainable growth through process improvement and automation, population health monitoring, the ability to provide connected care, risk management, and the expanded use of healthcare analytics and demand forecasting.
Key differentiators include:
Engagement models that are cost-effective for all organizations, no matter the size.

Technological solutions that are tested and fully compliant with current standards.

Extensive subject matter expertise, sales assistance and proactive account management.

Senior leaders committed to the success of each project.

A clear vision for the future, with a focus on innovation and using advanced technology to solve current business challenges.

End-to-end management of many business processes in the Healthcare verticals.

Our experienced billing professionals scrub all claims before submission for fewer underpayments and denials.

Complete compliance with HIPAA standards, as well as standards for remote access that keep data under your control.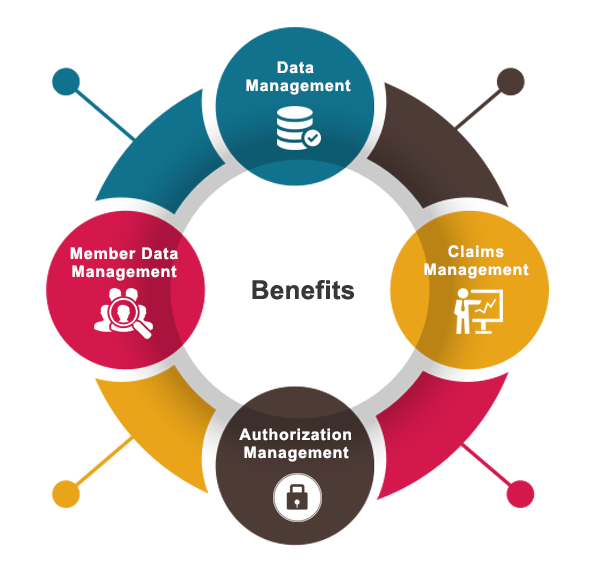 Making the decision to move some of your business processes outside of your building can be tough. We want to ensure that you have a high comfort level with that decision, so we provide you with SLA and productivity reports as well as accountability details on a daily basis, and you will have a client coordinator whose excellent communication skills will make certain that you have all of the information that you need for top-notch results. We provide ongoing analysis of the overall work and work with you closely to create any scope changes so you can see visible results from the process improvement efforts that are ongoing.
We reduce or eliminate the ongoing need for your teams to re-enter information through the introduction of robust OCR (optical character recognition) software that can verify the output with a built-in editor to practically eliminate errors as well as an audit workflow built into the platform.
Novigo offers you the benefit of an industry-leading provider data management solution as well as claims, data, and authorization management to ensure that credentials and data are submitted properly and verified the first time, every time.
True value comes to an organization when a provider's solutions focus on customer issues and how to solve them through deep expertise and intensive analysis. Not only does Novigo understand your specific pain points, we also provide sustainable, comprehensive and scalable solutions that will make a true difference in your organization's bottom line. Our vast pool of skilled resources can help kick-start new engagements based on your specific needs in a very short period of time.
Our in-house team is highly technical, and has a deep understanding of payer processes including how to customize business rules, workflows, and administrative processes. We provide a blend of technical and domain expertise to develop and design proprietary platforms that will help you move your business forward quickly. Our applications can be customized to a great degree to ensure we can suit your specific business requirements. You will be able to get a full view of the business through standard and customized reports, built-in workflows, and a host of system validations as well as the ability to accept custom validations.
Provider credentialing & re-credentialing.

Contract & Fee Schedule loading.

Provider updates and maintenance.

Data collection and verification.
Our solutions for adjudication and claims re-pricing include verifications such as eligibility of membership, and the provider contract verification that is generally necessary for claims processing. We also specialize in the data entry of claims information, and our trained data analysts and data entry personnel have a very high level of accuracy, supplemented by the claims audits that we perform on an ongoing basis to ensure all entries are fully in compliance with current standards.
When you are running millions of transactions through a technology system every year, you need to know that the platform is stable, secure and easy to use. Our data structure has been tested and proven successful over a period of several years, and we focus on a high level of accuracy as well as an excellent turnaround time for every transaction that our clients pass through to us.
Our data teams can work on electronically submitted data sheets as well as on scanned images, and they are especially aware of the various regulations and rules that are specific to individual states and counties within the U.S. Our flexible platforms allow Novigo to place effective charge control measures in place based on your business rules, and we process charges for multiple specialties. You may receive daily reports with no pay, low pay information and denials are worked on a priority basis.
Our goal is to constantly keep you in the loop with the information that you need to make solid business decisions that will help you take your business to the next level. Our Quality Assurance team continually audits data to ensure that data entry teams provide the highest quality output possible.
Claims pricing/re-pricing

Claims proposal/negotiation

Claims reprocessing project
Inappropriate and incorrect payments can cost you hundreds of thousands of dollars per year, and our Claims Audit solutions are designed to help Healthcare Payers reduce or ultimately prevent these payments. Our business rule engines help track accuracy and identify challenges before they are finalized, negating the necessity for payments. The goal of these specific systems is to reduce billing costs and pinpoint errors in coding that may occur. Our historical claim data is constantly flowing through our detection engine in order to ensure all services comply with billing rules – and to identify the data that is non-compliant. Claims that require additional review are identified and routed through an exception handling process.
Part of the impact of the Affordable Care Act (ACA) is to place an increased emphasis on pre-authorization and verification of eligibility for specific procedures and charges. Patient responsibility has changed, and services that are performed without specific authorization can cause significant business challenges downstream in the process such as rework, payment delays, a decrease in patient satisfaction, an increase in errors and general nonpayment of service charges. Customers are more willing to pay additional charges upfront when they are aware of them, so the management of authorization and pre-certification are receiving a great deal of scrutiny.
Novigo provides customers with a broad mix of technology, staff, management, process improvement and quality initiatives that serve to deliver the most cost-effective and high-quality patient insurance eligibility data that will help you reduce Accounts Receivable cycles and increase your cash collections through a reduction in denials and write-offs. Eligibility can be determined by a number of different methods, including email, fax or EDI, Navinet, Emdeon and payer websites like Optum, Cigna, Value Options, Magnacare, Palmatto GBA, Medicaid, as well as offering automated voice response systems and direct phone calls.
We can work with you directly to obtain pre-certification data, update patient information and demographics, process enrollments – all determined by your unique business needs. Just because bad debt and patient liability are on the rise, that doesn't mean that your business should be negatively impacted. Let us work with you to define business practices that will ensure your costs stay low and revenue and patient satisfaction stay high.
Pre-certification request verification

Authorization status update
Managing your back-office processes can be a unique challenge, but our services allow you the flexibility that you need to have in a constantly changing environment. Grow your member retention and satisfaction with an efficiently managed back-office, which is critical to ensuring clean claims and an accurate and quick reimbursement. Data entry teams work hard and smart to ensure that demographic information is entered accurately and in a timely fashion and that charges from a coded visit are accurate and entered correctly into the software.
Payments from insurance companies are quickly and efficiently applied back to charges in the system, and we have Optical Character Recognition (OCR) technology that allows an organization to quickly scan a document to populate data fields within various systems. These scanned entries are then confirmed by secondary teams, but the process overall is much more rapid than direct data entry.
Our experienced customer service teams offer efficient administration of member account management and registration services including the processing of applications, collection and updating of outdated information and overall member data management. Our highly trained associates will ensure that a patient's questions are answered quickly and efficiently, while taking the time to make updates such as the status of any outstanding claims, provider related information and member benefits.
We can also provide you with world-class Customer Service support for your office or medical group, with calling services that allow you to focus on daily interactions with your patients instead of answering billing and insurance questions. With direct access to your client information, we are well-equipped to handle patient inquiries such as re-activation, updating information to current standards, confirmations, and other inbound calling needs.
Member benefits – Customer Service
Novigo can also provide support for a range of activities such as inbound calls from hospitals, providers or members with inquiries on claims status, referral, authorizations and payment information as well as PCP changes and complaint resolution. We work within the defined service level agreements to ensure that performance metrics and customer service needs are met consistently. Our custom workflow was designed to address our client's needs and those of their end-customers and patients with a laser focus on providing flexible, cost-effective, complete and high performance solutions.