Revenue Cycle Management Solutions
One of the most important parts of your business is the cycle of revenue: from payor credentialing to billing services, and through collections. Novigo has spent more than 14 years reviewing, revising and optimizing the complete revenue cycle for healthcare. Our billing experts have an intimate understanding of state plans for Medicaid, Medicare, third-party insurance, managed care plans, and government-funded programs. Our defined KPIs (key performance indicators) are industry standard to ensure you are measuring the success of your program against actionable and meaningful metrics.
Benefits of an End-to-End RCM Solution from Novigo:
Enhanced client stickiness and retention

Continuous learning through training

Proven solution that you can bring to market quickly

Low development cost for new service developments

Experience working with multiple specialties and myriad practice management platforms

Millions of transactions processed per year
With redundancy models are second-to-none and fully defined disaster recovery models, we are ready for any eventuality. Our highly efficient processes will give you a level of comfort that will surprise and delight you; and our detailed analytics and reporting will give you a deeper and more actionable insight into your core business. Our professionals have a solid proficiency in a number of different EPM systems, and leverage their knowledge of the industry as a whole to build the best and most automated solutions you will find anywhere.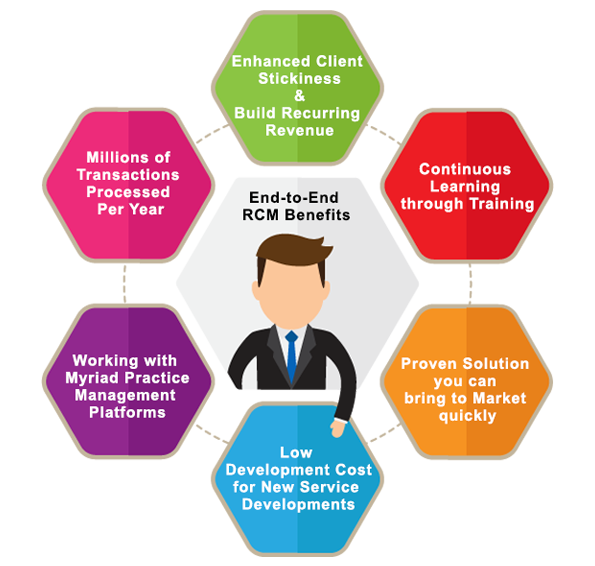 From the very first patient encounter to reimbursement, we manage all administrative functions including checking medical eligibility, registration, verification of benefits, patient scheduling, and collection of revenue. We take a comprehensive, expertly managed and well-structured approach to each process in an effort to find the most effective solution to overcome it.
Our coders undergo continuous training, and we have an excellent team of well-qualified medical coders who are certified in the latest standards with an expertise that crosses dozens of specialties. Our compliance programs are industry-leading and we have a foolproof Quality Assurance program.
Patient Registration/Demographics entry
Claims Submission & Clearinghouse rejections

Contract rate Verification